Results
We work with you on a personal level to determine the best solutions for your unique needs, then leverage our seasoned expertise to achieve the best possible results.
Relationships
We are your trusted partner in success. Our firm is large enough to offer a full range of professional services at a fair price, but small enough to give you the individual attention that you deserve.
Relief
Rest assured that when a need arises, our firm is ready and capable to handle everything for you so you can focus on what matters most to you.
Staff Profiles – Clinton Office
Scott Bernard, CPA
Acccountant & Principal Owner
Scott@bernardtax.com
Clinton Office
Scott Bernard is a Certified Public Accountant and principal owner of Bernard Tax & Bookkeeping in Clinton, Missouri.  He has extensive tax preparation experience for individuals as well as large and small businesses. Additionally, he is knowledgeable in new business creation, bookkeeping, payroll and providing solutions to other tax and accounting issues.
After obtaining his CPA designation, Scott joined a moderate-sized accounting firm in Springfield, Missouri, where he earned the title of Senior Accountant.  His experience led to his return to Clinton, where he joined Sue Cochran at Cochran Bookkeeping & Tax Service.  In 2008, he purchased the business and became principal owner of what is now known as Bernard Tax & Bookkeeping.
He is married to wife Stacy, a Registered Nurse at Golden Valley Memorial Hospital in Clinton, Missouri.  In his spare time, Scott enjoys traveling, music, golf, and interacting with his four dogs.  Scott was born and raised in Clinton, the son of Adele and the late Bill Bernard.  After high school, he was selected to travel with the multi-cultural music group Up with People for a year. He played bass guitar and was able to travel to several states and even internationally.
Certification
Certified Public Accountant, Missouri
Education
Bachelor of Science in Accounting, Missouri State University, Springfield, MO
Bachelor of Science in Marketing Research, Missouri State University, Springfield, MO
Professional and Community Involvement
Missouri Society of Certified Public Accountants
National Association of Tax Professionals
Clinton Rotary Club, Treasurer
Twin Lakes Hospice, Former Board Member
Clinton School District, Member of the Board of Education
Clinton Area Chamber of Commerce
City of Clinton Personnel Board
Former member of City of Clinton Planning & Zoning Commission
Clinton Animal Shelter Volunteer
Boxer/Schnauzer Rescue of the Ozarks Volunteer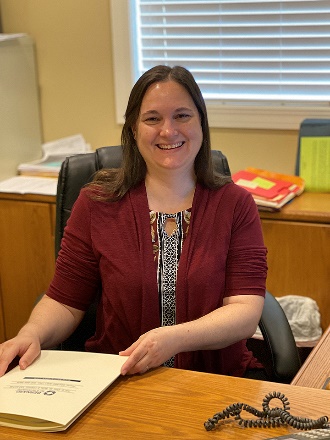 Stacy Hinkle
Senior Accountant
Stacy@bernardtax.com
Clinton Office
Stacy Hinkle is Senior Accountant at the Clinton office. Her areas of expertise are tax preparation for farms, small businesses, and nonprofit organizations.  She also has a vast amount of experience in bookkeeping and payroll and provides QuickBooks instruction.
She was born and raised in Henry County on the family farm in the Mt. Zion area.  Being raised on a farm was a natural fit when it came to tax preparation for farms, both large and small.  She is now married to James and they have two sons: one resides in Clinton and the other is in the United States Marine Corps currently stationed in San Diego.
After graduating from Lakeland High School, she attended college in Warrensburg.  Upon graduation from UCM, she was employed in an engineering firm before moving to Clinton to take a position with Schreiber Foods at the Capri Plant.   After leaving Schreiber, Stacy and her husband James took over Hinkle Screen Printing and operated the business for over a decade.  They have continued to attend the Missouri State Fair for 20+ years selling t-shirts and other souvenirs.  This small business experience has given her the background for helping with small business tax preparation.
Stacy started her own tax office in Lowry City before merging with Bernard Tax and Bookkeeping in 2011.  In addition to her work in bookkeeping and tax preparation, she and her husband own and operate Sounds Like Videos.  They produce videos and provide live streaming for numerous sporting events for schools in the area.  In her spare time, she enjoys reading, walking trails, and the outdoors.
Education
Master of Business Administration, University of Central Missouri, Warrensburg, MO
Bachelor of Business Administration, University of Central Missouri, Warrensburg, MO
Professional and Community Involvement
Clinton Main Street, Board member and Economic Vitality Chairman
Golden Valley Day Care, Board member
Clinton Booster Club
Owner, Sounds Like Videos
Audio Book Narrator, Sounds Like Videos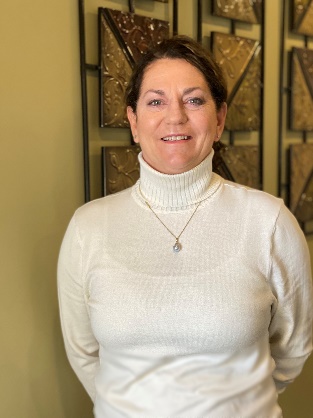 Kristin Harbin
Accountant
Kristin@bernardtax.com
Clinton Office
Kristin Harbin joined Bernard Tax in October 2020.  She brings with her 35 plus years of managerial accounting across several industries including, financial services, healthcare, construction, logistics and hospitality.
Kristin was born and raised in Santa Fe, New Mexico.  She relocated 10 years ago to her family farm outside of Osceola, MO.  She and her family are the third generation to operate the cattle farm.
Her interests include all things agriculture, snow skiing, horseback riding and fishing.
Education
Bachelor of Business Administration in Accounting, University of Albuquerque, Albuquerque, New Mexico.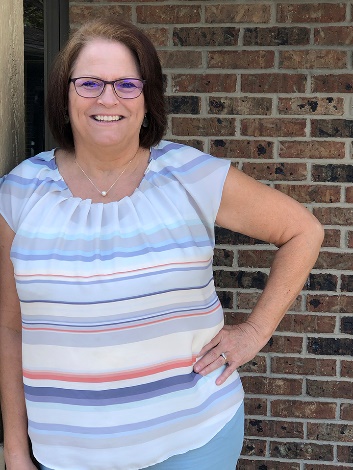 Robin Austin
Office Manager, Bookkeeper, Notary Public
Robin@bernardtax.com
Clinton Office
Robin Austin came to Bernard Tax in 2016 with extensive experience; Robin held a management position in the non-profit sector for 10 years in Warrensburg, Missouri. She currently owns a small retail business in Chilhowee, Missouri. Robin's career experiences include manufacturing, food service, retail, contract labor, and floral business. She can tailor her skills to meet the needs of our various clients.
Robin was born and raised on a farm just outside of Chilhowee in Johnson County, Missouri. Small-town business, school, and community involvement are very important to her. She and husband Jimmie live just west of where Robin grew up, staying close to her small town. Their three children were raised to appreciate the value of a small town and family traditions. She and Jimmie have four grandchildren that they enjoy spending time with who also live close by.
Certifications
Professional and Community Involvement
President of the Carpenter Cemetery
Chilhowee Community Fair Advisory Board
Co-Treasurer of Chilhowee Community Fair board
Chilhowee County Fair Book Publisher
Owner, Hometown Convenience Store in Chilhowee, MO
Participant in the C.L.I.M.B. Leadership Program, Warrensburg, MO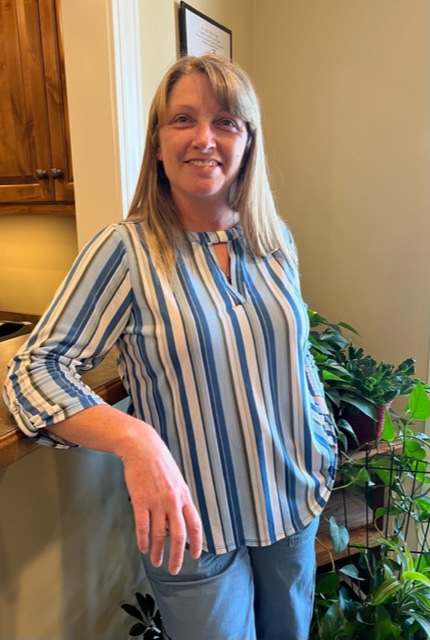 Amy White
Receptionist, Bookkeeper & Notary Public
Amy@bernardtax.com
Clinton Office
Amy was born right here in Clinton and came back as an adult. She and husband, Randy, whom have been married for 25 years, have raised 2 daughters, Jordan and Tylar, on their family farm, where they raise cattle.  When not working, rather it be here at Bernard Tax, Backroad Antiques or on their farm, she enjoys Antiquing, attending Mudruns around the area, reading and spending time with family, including her 2 grandchildren.  Camping and being on the Lake are a couple of her favorite past times as well.
Certifications
Professional and Community Involvement
Owner, Backroad Antiques in Clinton, MO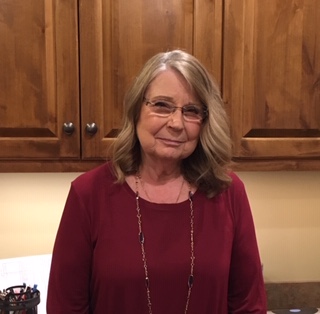 Darlene Conrad
Tax Processor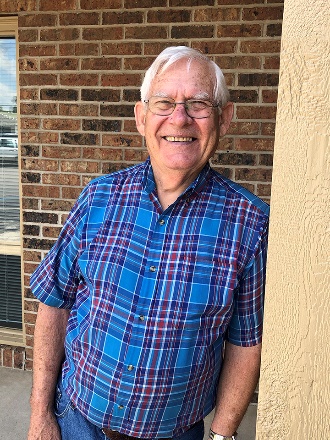 John Cochran
Clinton Office
John Cochran has been a constant with the business since it first began as Cochran Bookkeeping in the mid 70's.   John's late wife, Sue Cochran, was the original owner who began her tax career doing tax returns at the library.  He continues to support the office maintaining files and continuing valuable relationships with our customers.  He retired from Honeywell in 2002 but remains a vital part of Bernard Tax and Bookkeeping.
Staff Profiles – Warrensburg Office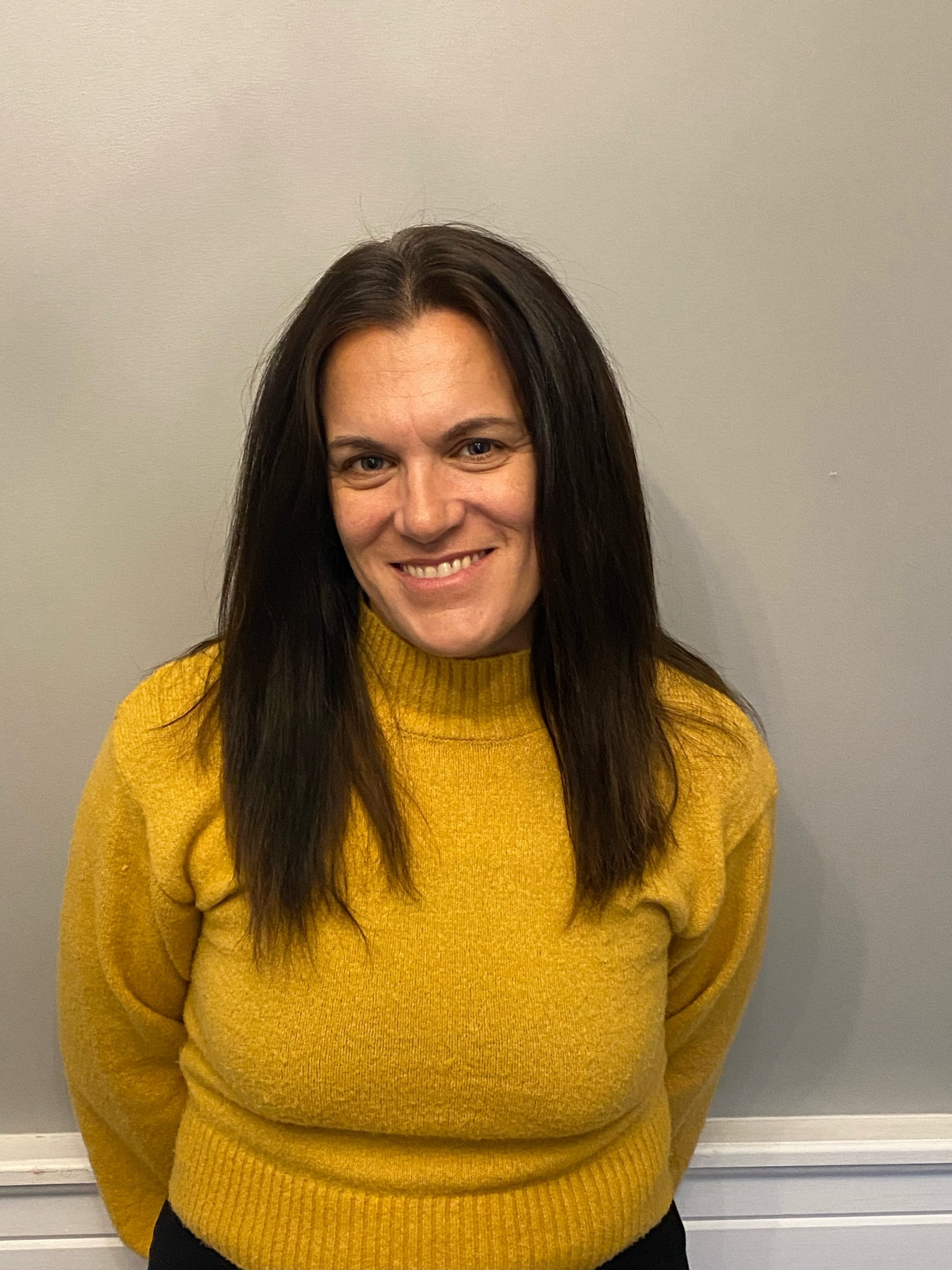 Cara Duchesne
Senior Accountant
Cara@bernardtax.com
Warrensburg Office
Cara was born and raised in Warrensburg, graduating from Crest Ridge HS. After high school, she worked as a legal assistant and bookkeeper while raising two children and going to college full-time. She graduated from UCM with a double major (Business Management and Accounting) in December 2004.
In 2002, she was hired as a receptionist for an accounting firm in Warrensburg and she became a tax preparer and full-charge accountant before leaving the firm in 2005 for the "big city". Cara grew her corporate career from 2005 to 2013 in food ingredients and then medical devices. It's during this time that she gained experience in mergers and divestitures, forecasting and budgeting, data mining and analysis, developing process and procedure, managing employees and presenting to executive management. In December 2013 after declining a move to San Diego, Cara decided to pursue her dream and founded her own tax and accounting practice in Gardner, Kansas. Nexus Accounting operated from December 2013 until it was sold to a larger firm in late 2019.
Nexus Accounting was founded in Cara's kitchen with 30 clients and grew to a beautiful office with over 400 clients by the time of sale. The exponential growth is attributed to providing stellar customer service and her ability to empathize with client situations. Daughter to a farmer/construction father and financier (gasp…banker) mother, she can understand and explain from the perspective of the client and values the trust of clients. In her practice, she represented individual clients as well as corporate business clients of various sizes in a wide scope of service, manufacturing and retail industries. For seven years as Nexus Accounting, Cara was active in the Gardner-Edgerton community: serving on various boards, providing pro bono services to local non-profits, delivering Meals on Wheels, participating in the local Rotary club, among others.
During 2020-2022, she performed consulting work for former clients, took the lead accounting role in a multi-million dollar start-up working with Ferrell Capital, the investment arm of the founders of Ferrellgas and established accounting and reporting for a premier restaurant start-up in Franklin County, Kansas. Finally, she's returned home and joins Bernard Tax as a Senior Accountant in the Warrensburg office. Tax preparation and planning is her main focus as she is well-versed in all facets of income tax, including corporate, non-profit and fiduciary. Additionally, she brings two decades of experience in the full accounting cycle, extending top-rate accounting services and helping entrepreneurs explore, develop and start-up business ventures. Cara's children are of adult age and she is a new grandma but she's never sitting still. She enjoys solo travel adventures across the United States (and beyond) from arduous mountain hikes in Colorado and New Mexico to lazy beach strolls in Alabama and Hawaii.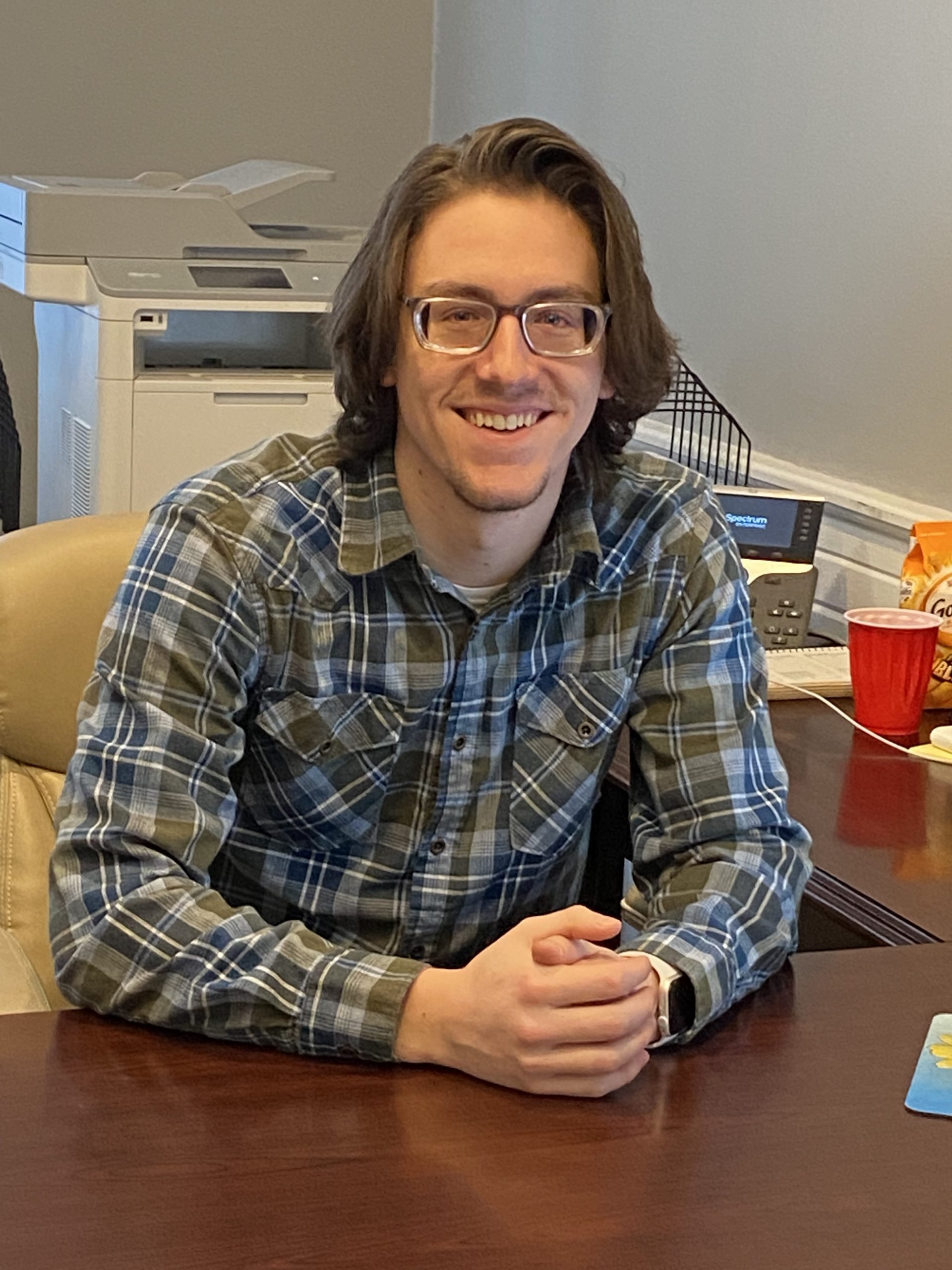 Levi Macy
Acccountant
Levi@bernardtax.com
Warrensburg Office
Levi joined the firm as a Staff Accountant in November of 2022. He has lived in the Warrensburg area since 2020. He obtained his Bachelor of Science in Business Administration in Accountancy from the University of Central
Missouri in 2022. Levi is working on finishing his Master of Arts in Accountancy from UCM and is set to graduate in Spring of 2023. Ever since he completed his tax internship, he's wanted to start his career in the tax field. His interest in tax and his love of Warrensburg led him to work at Bernard Tax & Bookkeeping.
Levi grew up in Clearwater, KS and graduated from Clearwater High School in
2018. Following graduation, he moved to Arkansas City, KS to get his
Associate degree in Accounting from Cowley College. While at Cowley, Levi
was a Tutor for Accounting and Math students, as well as a Resident
Assistant for the dorm he stayed in. After Cowley, Levi moved to Warrensburg
to get his bachelor's degree from UCM. He is married to his wife, Katie, who
is the Children's Ministry Coordinator at the First Baptist Church of
Warrensburg. In his spare time, Levi enjoys spending time with friends and
family, reading, and playing video games.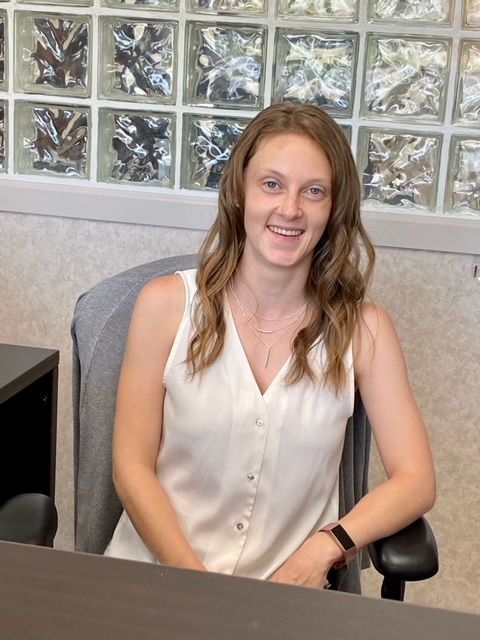 Jessica Grant
Receptionist & Bookkeeper
Jessica@bernardtax.com
Warrensburg Office
Jessica joined the firm as a receptionist and payroll clerk in May of 2022. In 2016 she started her journey as a fitness instructor which led to co-owning a local gym for a few years where she gained valuable experience as a small business owner. Jessica has always had a love for numbers, solving problems, and organization which led her to Bernard Tax & Bookkeeping.
Jessica grew up in Independence MO. She moved to the Centerview area in 2006 where she graduated from Crest Ridge High School in 2009 and has stayed the Warrensburg area. She is happily married to her best friend Calee Grant who is an EMT. She enjoys traveling, spending time with family and friends, teaching fitness classes, and random road trips with no destination in mind.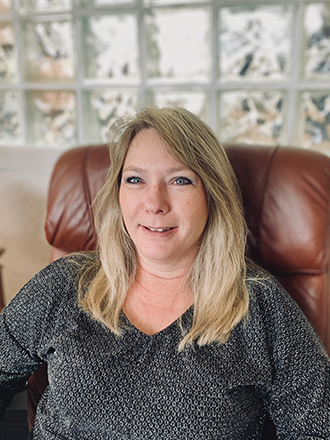 Angela Wiebusch
Payroll Specialist and Bookkeeper
Angela@bernardtax.com
Warrensburg Office
Angela joined Bernard Tax in November 2021 and primarily works at the Warrensburg office.  She has a vast amount of experience with small to medium sized businesses, as well as experience as an owner/accountant/manager for her own past companies in the construction (government contracts), small business retail, convenience store, and residential rental industries.  Angela graduated from University of Central Missouri with a BSBA in Business Administration and went on to study Accounting at Longview Community College in Blue Springs.  Her first job was Cost Accounting for a marketing point of purchase display manufacturing plant.  Her second job was working in an Independence MO CPA firm preparing client's bookkeeping, payroll and payroll taxes, and assisting in tax preparation.  Every position since she has been doing the management, accounting, and payroll for other businesses in several different industries as well as her own successful businesses.     
Angela grew up in Higginsville the daughter of Dr. Derald (Chiropractor) and Johanna Beschnett, and has lived in the area most of her life.  She currently lives in Emma with her son Brandyn and their three rescued cats.   Her hobbies include quilting, painting, swimming, gardening, and traveling.  
Education
Bachelor of Science in Business Administration, University of Central Missouri, Warrensburg, MO
Accounting, Longview Community College, Blue Springs, MO